Manolayam is a retirement community in the outskirts of Chennai, next to Sairam Engineering College near Tambaram. It also offers Short stays for all ages as well as space for hosting events.
Planned with stringent attention to detail and functionality, Manolayam Senior Citizen's Home is structured in a total area of about an acre with total built-up area of 10,000 square feet. Executed with expertise and experience, Manolayam has been conceptualized by dedicated architects. Manolayam Senior Citizen's Home as a haven for lonely NRI parents has been functioning for two decades.
Manolayam has simple, well-lit, comfortable rooms with attached bathrooms in a ranch style setting. Come and experience this indoor/outdoor living in a modest, safe, serene atmosphere. There is a common hall where one can meditate in front of the altar, quiet seating area where you can do your reading, a quiet corner with a card table where you can play board games with others.
The front verandah with a cool breeze blowing is the place to sit and relax and reflect about life!
There is a garden area with freshly planted trees and edible plants. Relax in the garden and help picking the fresh vegetables.
There is a dining hall that is attached to a kitchen and service area. There is a resident cook and helpers in the facility. The resident cook will whip up delicious, mouth-watering south-Indian dishes like Idli/sambar/vadai, kichidi, upuma, sevai, poori/potato for breakfast along with steaming hot delicious south-indian filter coffee.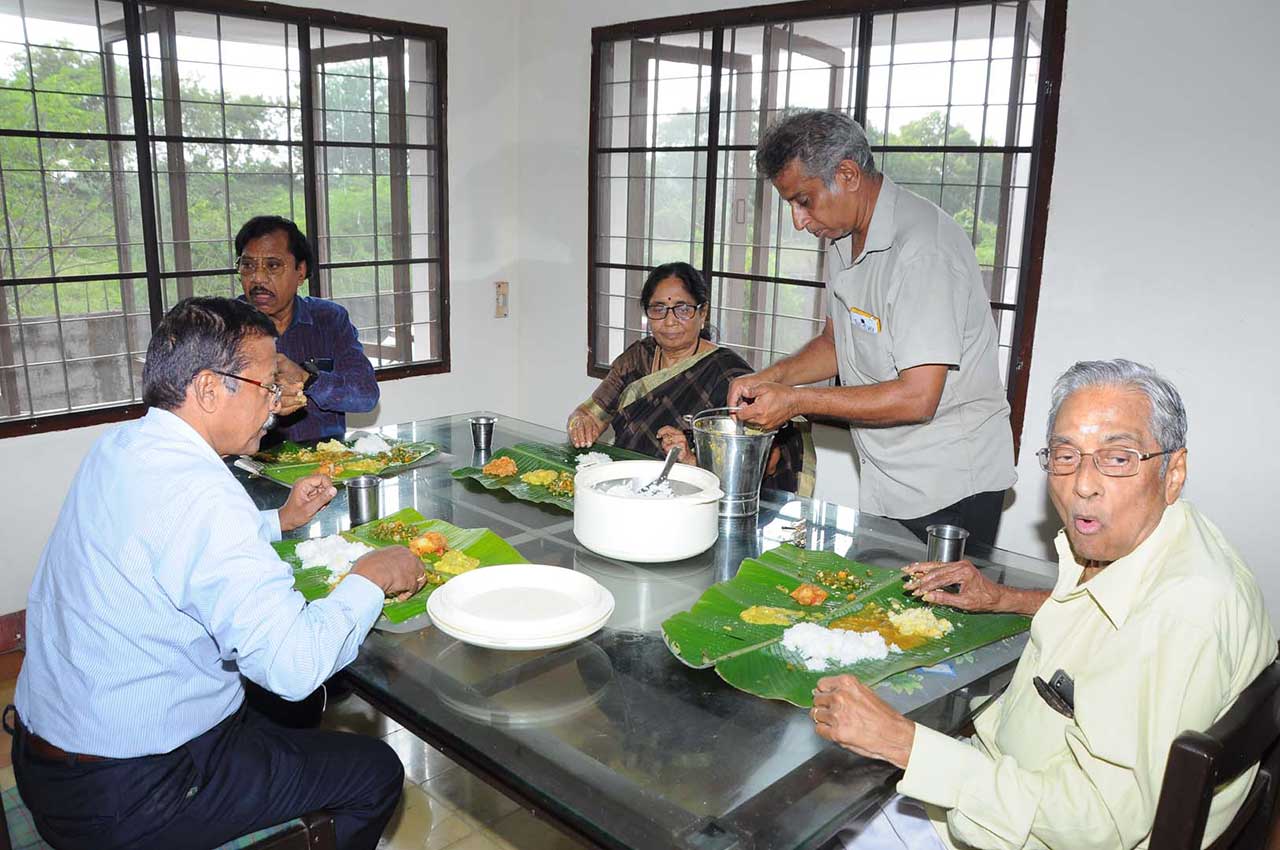 Lunch and dinner will be equally delicious with items like Sambar, Rasam, Kootu, Curry, Pachadi, Appalam etc.
Snacks for in-between meals will be prepared and served as well.
Features
1. 12 double bedrooms
2. 6 single bedrooms
3. 1 common dining hall
4. 1 library room/1 recreation room/event hall
5. Landscaped garden with walking path
There are plenty of walking areas within this village that is safe. There is a beautiful Shirdi Baba Temple in the huge Sai Engineering College that is about a 15 min walk. There is a large lake in front of this property, that has a trail as well.
There are a lot of volunteering opportunities in the village with many children desperate to be educated. Besides education, there are volunteering opportunities in the surrounding temples, teaching personal finance to the local villagers, helping women to be more self-sufficient etc. We believe every one of us has a purpose on this planet. Please find yours and check us out if we are a good fit for you.
If you are a senior Non-resident Indian (NRI) and you are dreaming about living some of your senior years in a village setting that is just outside the bustling urban city of Chennai in Tamilnadu, then look no further. This is the place for you. Come and visit us in this Covid-19 safe environment.